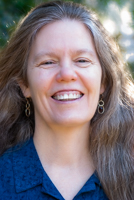 Welcome!
I'm Debi Cox, a licensed massage therapist with post-graduate training and certification in Manual Lymph Drainage and Combined Decongestive Therapies from the Dr. Vodder School.
Manual Lymph Drainage (MLD) helps move excess fluids out of swollen tissues and joints, relieving related problems; and it's an effective therapy for lymphedema.
I've worked in healthcare for over 30 years, and I understand that stress is a primary contributor to many illnesses. Massage is a powerful tool to mitigate this risk factor; and it has become my passion.
CLOSING
I am closing my office in response to the COVID-19 pandemic.
It is heartbreaking that I cannot continue to support people in need, but I cannot avoid the anxiety of not knowing if I or one of my clients will spread this terrible disease to others.
I do not feel it is safe to practice; and I must do everything in my power to protect my clients, my family, and my friends.
I'm looking forward to a time when we can engage again, and when I can serve and contribute to your happiness and well-being again; but that time will not come soon.
Our community is not consistent in masking and distancing, and our infection rates are increasing.
Please, join me and do your part. Wear a mask. Wash your hands frequently. Practice social distancing. Avoid crowds and close-contact situations. And please use your vote to elect government officials who will put the health and well-being of all people at the top of their agenda.
With much love and grief,
Debi
Contact me at
Northwest Manual Lymph Drainage & Massage
In the 'Body of Work Wellness' offices
3220 NW 185th Ave, Suite 100
Portland, OR 97229
I'd love to hear from you!
Manual Lymph Drainage
also known as manual lymphatic drainage
Manual lymph drainage (MLD)* relaxes and invigorates the lymphatic system, encourages improved lymph flow, and – in cases where the lymphatic system has been damaged – redirects flow to other channels.
When the lymphatic processes become impaired, significant problems can develop, including metabolic waste and fibrotic tissue build-up, edema (fluid retention), and swelling.
MLD is a gentle, soothing, medical massage therapy that leaves you feeling pleasantly relaxed and pampered. It is specifically recommended for some weight loss programs such as the Fat Flush diet; and I believe it greatly enhances the effects of the cellulite reduction protocol I use (Lypossage).
Manual lymphatic drainage is a demanding protocol to master. Dr. Vodder certification requires a minimum of 160 hours of lymph drainage training in the classroom, followed by an exacting examination process. Recertification training sessions are required biannually.
If you suspect that lymph drainage may benefit you, it is well worth your time to research the qualifications of your therapist.
Lymphedema Therapy
Lymphedema
is a medical condition characterized by swelling of one or more parts of the body due to retention of lymphatic fluid. It can occur spontaneously, with no known cause; or it can result from damage to the lymphatic system caused by injury or surgery. Some people are just born with insufficient capacity in their lymph vessels.
Studies indicate that up to 20% of all patients who have had lymph nodes removed or who have undergone radiation therapy develop lymphedema. It can appear weeks, months, or many years after the procedure.
Please consult a physician if you are experiencing any of these symptoms and have not been diagnosed.
There is no known cure for lymphedema, but it can be managed and controlled with proper care.
Lymphedema therapy
begins with a series of closely-spaced sessions during which I use manual lymphatic drainage to reduce the volume of retained lymph in your affected area, followed by careful bandaging. The bandaging is essential to help maintain the reduced volume between treatments, and special bandages are necessary.
Once the size of the area has stabilized, I measure you for a specially-fitted compression garment. You will wear this garment in your daily activities to control swelling and maintain more normal function.
I can supply you with both bandages and compression garments.
I will also teach you simple techniques for self-treatment, and we will discuss self-massage, exercise and diet. For example, breathing exercises and swimming have been shown to be very helpful.
From time to time, you should return for maintenance sessions or garment refitting.
There are many excellent resources for lymphedema information. I suggest you start with the National Lymphedema Network (NLN).
The NLN website also provides links to several lymphedema support groups, both online and off. There is probably a group that meets near you.
Other useful web resources include the Circle of Hope Lymphedema Foundation, the Northwest Lymphedema Center, and Lymph Notes.
Lypossage
for cellulite reduction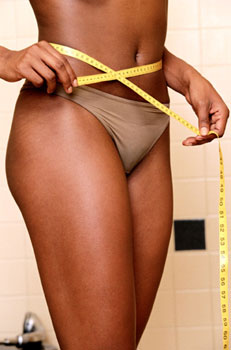 Lypossage
*
is a research-based massage technique that has been proven to reduce cellulite. In clinical studies, 95 out of 100 subjects lost dimension in their targeted zones; and 86% lost 5 inches of cellulite or more. The median loss was 6.75 inches.
Several of my clients have had better results than the research: One lost 14 inches in her waist, hips, and thighs; and another lost 19 inches! I suspect that my certified manual lymph drainage technique improves the elimination of cellulite.
Unlike other techniques, lypossage is non-invasive. It is a way to naturally stimulate and vitalize the body to help it return to a more healthful appearance. There are no surgical procedures, and no special drugs or chemicals are used. It's safer than any other technique — and more fun!
I am one of the first lypossage practitioners in the Portland area, and I'm the only one certified in manual lymphatic drainage. I'm happy to report that my clients consistently remark that they feel GREAT after one of our sessions!
I have witnessed excellent benefits to the body and spirit of people undergoing this great body work.
If you want to firm up a particular area of your body, return to a smoother, healthier appearance, or optimize the visible results of an exercise or weight-loss program, lypossage might be right for you!
Learn more about lypossage here.
Massage Therapy
types and techniques
As a trained massage therapist, I am familiar with several massage techniques and have a good understanding of human physiology. This enables me to tailor a massage to address your unique needs in terms of health, relaxation, and comfort.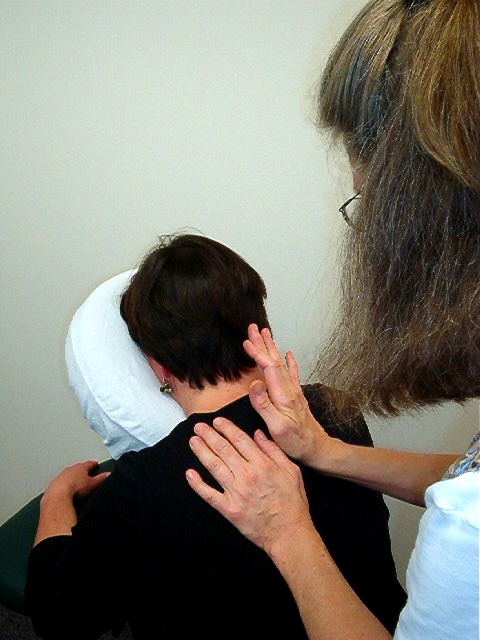 Table massage
is performed on your bare skin using lotions or oils as lubricants. By carefully draping your sheets, I expose only those muscles being worked; so neither you nor I feel uncomfortable with the degree of exposure at any time.
When I provide table massages I administer a gentle medical massage that specifically addresses the lymph system.
The optimal massage session is normally about an hour – long enough to address the major joints and limbs of your entire body. You are always in control. You determine the areas of your body to be worked on; and you determine the length of the massage.
My personal meld of the following table massage techniques is designed to give you an experience of total body relaxation, revitalization, and integration:
Cranialsacral massage

is a technique to promote optimal fluid transport within the spinal cord from the sacrum to within the cranium.

Swedish massage

utilizes long, soothing strokes on your muscles, combined with kneading, friction, and stimulating percussion.

Myofascial massage

is a powerful technique for releasing stuck connective tissue that causes pain or restricted movement. It is also effective in reducing and softening scar material.

Reiki

is a subtle gift of healing energy and caring.

Reflexology

applies pressure to specific points on your body (usually feet, hands, or ears) to affect a release and healing elsewhere.

Integrated visceral techniques

employ a gentle attention to the organs and their connective tissues to promote relaxed function.
My office is handicapped-accessible, and my electric-lift table lowers to wheelchair-height.
Massage For Support
a caring touch during times of illness
If you are living with cancer or another difficult condition, caring massage can be a wonderful support.
Some kinds of massage might not be appropriate when your body is under medical stress, though. A sensitive and skilled massage therapist can adapt to meet your needs.
And while others on your medical team are treating your illness, your massage therapist can focus her energies towards supporting the aspects of your being that are healthy.
I have trained in massage for people living with cancer and lymphedema. As a rule, my emphasis is on gentle, caring, and effective massage techniques that make you feel better right now.
I'm a professional with heart. When we are together, I try to connect as deeply as possible and to serve you to the best of my ability in that moment. I will always do that whenever you need my support.
Your caregivers often need care, too.
I've supported several families as they shared a hard journey. My life has been remarkably enriched by these wonderful people, and I feel honored that they chose to include me. I always try to give my best.
My office is handicapped-accessible, and my electric-lift table lowers to wheelchair height. I hope to make your massage a truly positive experience.
Appointment times, fees, payment, and other services
Appointment times
Monday
closed
Tuesday
11:30am
1:30pm
Wednesday
11:30am
1:30pm
Thursday
11:30am
1:30pm
Friday
11:30am
2:15pm
Saturday
closed
Sunday
closed
Fees

| | | | | |
| --- | --- | --- | --- | --- |
| Manual Lymph Drainage | 60 minutes: | $80 | 90 minutes: | $105 |
| Lymphedema treatment | Upper extremity: | $85 - $105 | Lower extremity: | $105 |
| Lypossage treatment | | $105 | | |
I accept cash, checks, or prepaid gift certificates at time of service only.
I do not accept credit cards or debit cards.
I do not bill insurance.
I no longer fit compression garments.
I sell massage supplies, bandages, and compression garments to current clients only.
I do not sell over the web, by email, mail, or telephone because I want to focus on care, not retailing.
Gift certificates
I sell gift certificates for any occasion, but please allow three days for us to make an exchange. I'm often not available because I'm with clients.
Directions to my office
Northwest Manual Lymph Drainage & Massage
In the 'Body of Work Wellness' offices
3220 NW 185th Ave., Suite 100
Portland, OR 97229
My office is in the Beaverton/Portland area, just off the Sunset highway (US 26)/185th Ave exit, convenient to Portland, Beaverton, Tigard, and Hillsboro Oregon.
The building is handicapped-accessible, and I use an electric-lift massage table suitable for my wheelchair clients.
Lymphedema Resources
Everyone should learn more about Lymphedema. You or someone you know is almost certainly at risk. Please make use of the resources below.
Legal
All material on this website is copyright © 2005-2020 by Debra Cox, LMT, MLD/CDT
Jobst is a registered trademark of BSN-Jobst, Inc.
Juzo is a registered trademark of Julius Zorn Inc.
Lypossage is a registered trademark of Charles W. Wiltsie III, LMT
Solaris is a registered trademark of Solaris, Inc.